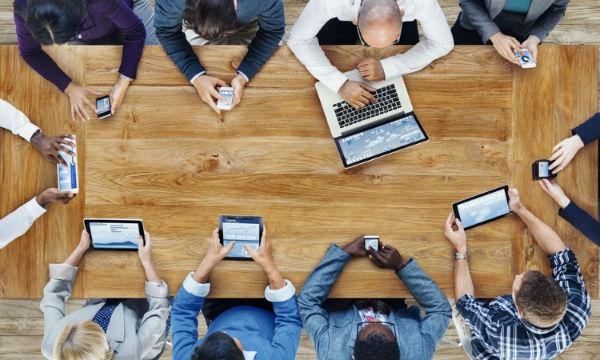 BYOD or "Bring Your Own Device" is a progressive new IT guideline that gives everyone in the organization a chance to work freely. Gone are the days your employees need to be tethered to desktop, let alone a desk in general. Many companies are proactively implementing "Bring Your Own Device" programs, giving employees the autonomy to work when and how they see fit on any device of their choosing.
Employee Productivity and Satisfaction
Equip your team to work when they are most focused with devices they are most familiar with using, which in turn increases individual productivity. We should remember every employee is different, its important to maximize each of their unique peak working hours for each member of your team. Enjoy longer employee retention due to flexibility and increased satisfaction in their work.
Empower Any Device For Work
Ever catch yourself needing a document after hours from your shared drive at work? Or if only you could quickly check that voicemail in your inbox? Well never worry again, with entirely cloud-based solutions all your documents and communications are accessible from literally any device. Empowering your employees to work when they feel most productive produces better results too.
Business cost savings on large capital expenditure equipment. BYOD can reduce operating costs significantly as well as cut real estate costs if a large portion of your team adopts teleworking on a continued basis. However, it's not just a saver for companies, but for employees as well. This teleworking lifestyle cuts down commuting costs and lunch expenses.
The best part is that there are no device restrictions. As a cloud browser or application based service, your business can be up in and running on any device you need it to be. Kumo cloud services are compatible with desktop, laptop, tablets and smartphones (Android & iOS).