Phone System/VoIP
Exceptional Communications Come Standard
When looking for a communications solution, having the right voice services are an important factor. By simply moving your voice needs into the cloud, enjoy scalability and accessibility across your entire organization from anywhere.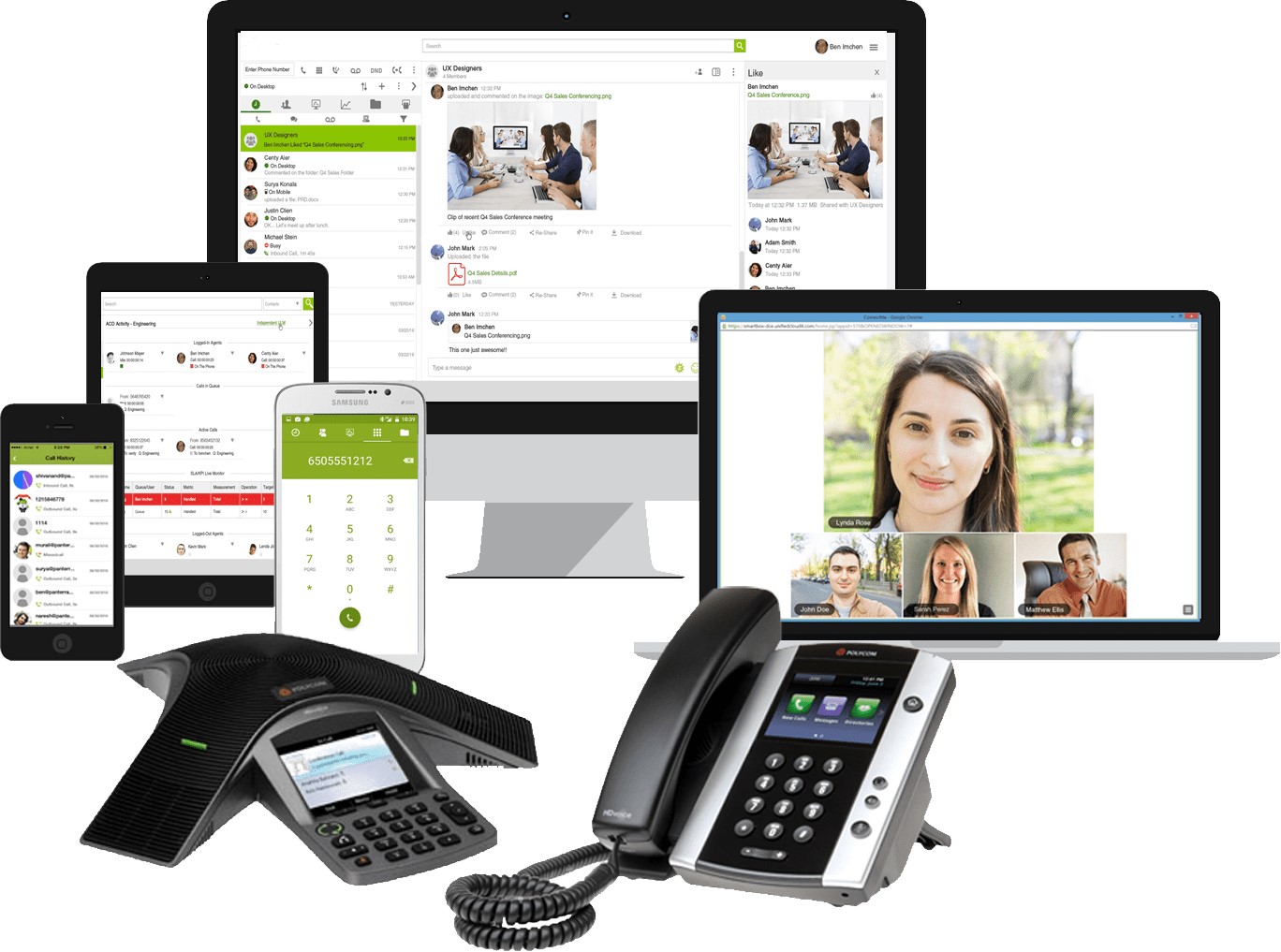 Benefits of Switching
Budget friendly - by utilizing your data connection to make calls, you no longer have to pay for services you aren't using, long distance connections or expensive hardware.
Accessible from anywhere - Traditional phone services tie you to offices, rate plans, roaming charges and long distance call charges. PBX solutions bypass all of that with a flat-rate charge.
Never miss a call - Since a VOIP solution can incorporate all your lines, phone numbers and contacts, you never have to miss another important call - or get frustrated by landing in your employee's voicemail
Single Source Solution - All your services are fully managed within the cloud, saving you time and money over old, multi-vendor solutions. You are always ready to change and adapt to IT changes as technology advances. What's more, you can adapt Kumo VOIP's infrastructure to your exacting needs and growth.
Easy transition – Kumo VOIP has been designed to interface and exchange information with all existing applications, business processes and the software with which your staff are familiar. You can even keep your old office phones and IT can exchange information with your current systems. Going into the cloud really is a breeze and Kumo VOIP offers the best way in. So don't wait another day, let Kumo help make your business run more smoothly and profitably from now on.
Take your business calling to new levels of ease and service excellence with a VOIP system from Kumo!
MULTI-LOCATION OPTIMIZED
With Konnect, you can deploy a feature-rich, consistent, globally accessible telephone service throughout your enterprise, connecting employees and customers seamlessly.
INTEGRATED SOFTPHONE
Konnect provides an integrated softphone that works on mobile devices and desktops. Konnect also works with existing standard IP phones, simplifying deployments.
INTELLIGENT CALL ROUTING
Automatically route calls to your mobile devices, set up sequence, blast or time-of-day routing, seamlessly re-route active calls.
TEAM MESSAGING / PRESENCE BUILT-IN
Set up Team rooms and share multi-media content to anyone. Show real-time presence with custom status.
FULL MOBILE DEVICE SUPPORT
With dedicated Apple and Android mobile apps, Konnect lets you take all your communications and corporate content with you wherever you go.
ENHANCED CALL RECORDING & VOICEMAIL
Flexible call recording options with storage of both call recordings and voicemails in the cloud means you'll never run out of storage.
Phone System Features
Unlimited calling to US and Canada
Business Analytics
Voicemail
Contact Center Features
(only for contact center package*)